Ok Guys, Girls and indeterminates (you know who you are)
After much ado about something, here are the "Unofficial" T-Shirts
Last year a group of warriors, descended upon Cadwell Park for what came to be known as the "Unofficial" Superduke.net Slaughter, I mean Trackday.
Prior to said event we decided it would be appropriate to attend in full Battle Regalia to show the other lesser mortals that we meant business and so the "Unofficial" T-Shirt was born
The Sd.net soothsayers and sages were consulted and it was decided that we should not only honour our bikes but our sexual prowess in order to intimidate the opposition even further and so the immortal words "Real Men Ride Naked Twins" were uttered.
A member and his Geisha then set to work crafting a suitable symbology to carry such words, delving into his deepest recesses of Kung Fu and Oriental wisdom... and perhaps the KTM website but that's neither here nor there.
Once completed I set to work finding a fabric hard enough to be worthy of taking such strong words and carry them on its back as well as surviving the rigours of hooliganism that an SD rider may put it through. (Ok so we all took em off when it pissed down but Rain don't count alright) Fruit of the Devils Loin "Heavy" was deemed suitable.
We took the items to a nearby sorcerer to meld them together as one (The local printers up the road)
So here it is, the "Unofficial" T Shirt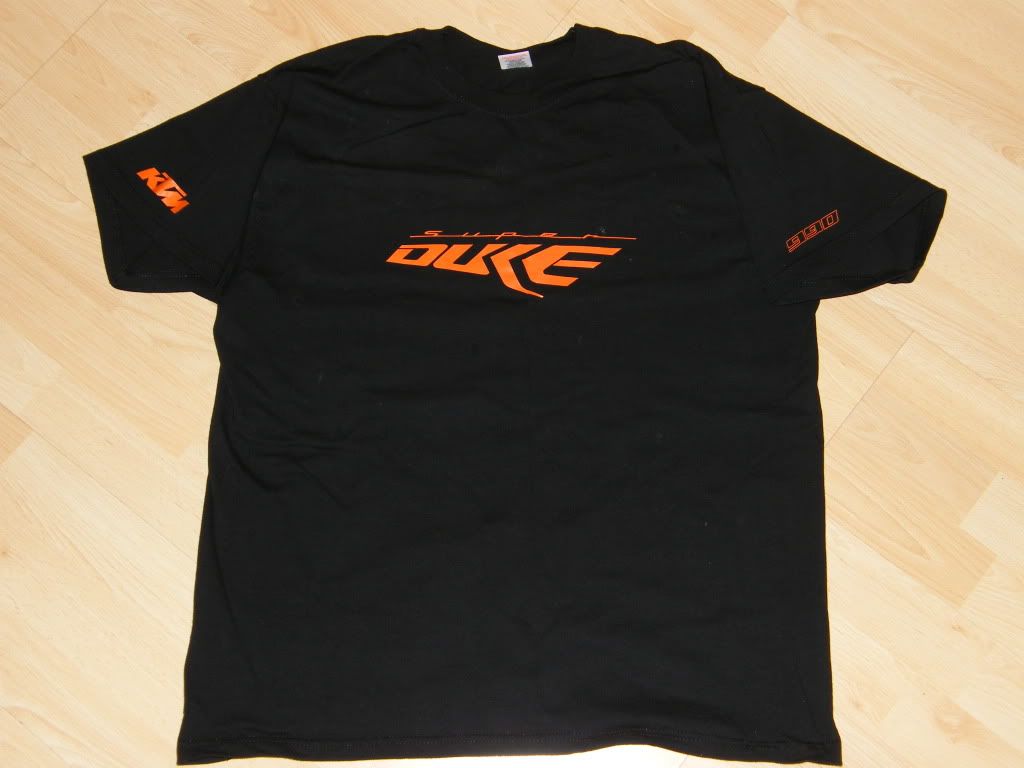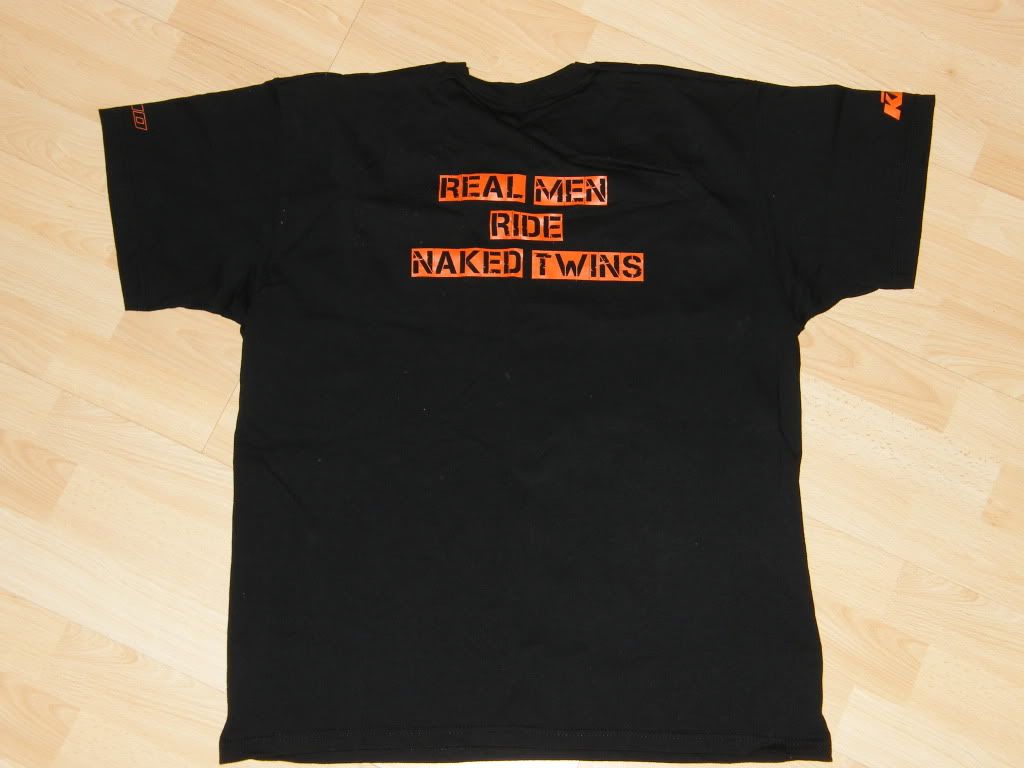 There was also Orange shirt with Black graphics but mine is covered with bugs tha I slaughtered while in battle at the minute so I'll have to post a pic up of that one later
Since then we've had some others made up to extend the idea, although when i say others I mean MotoRonin mainly, he's got loads of em, more bling than a bling thing.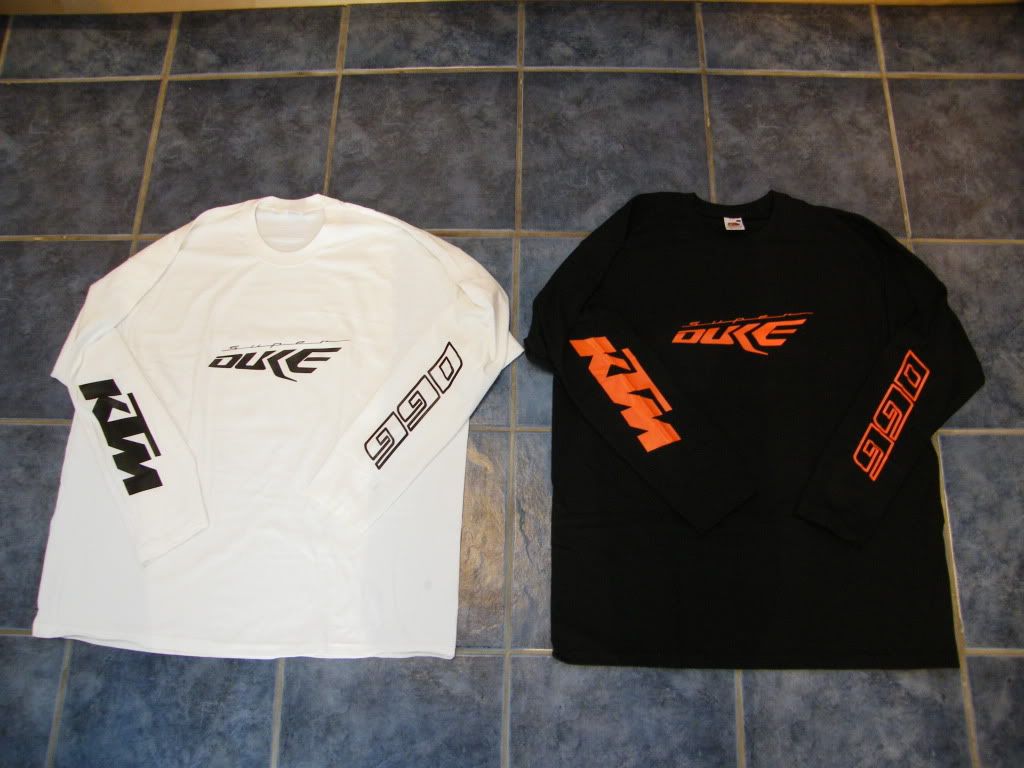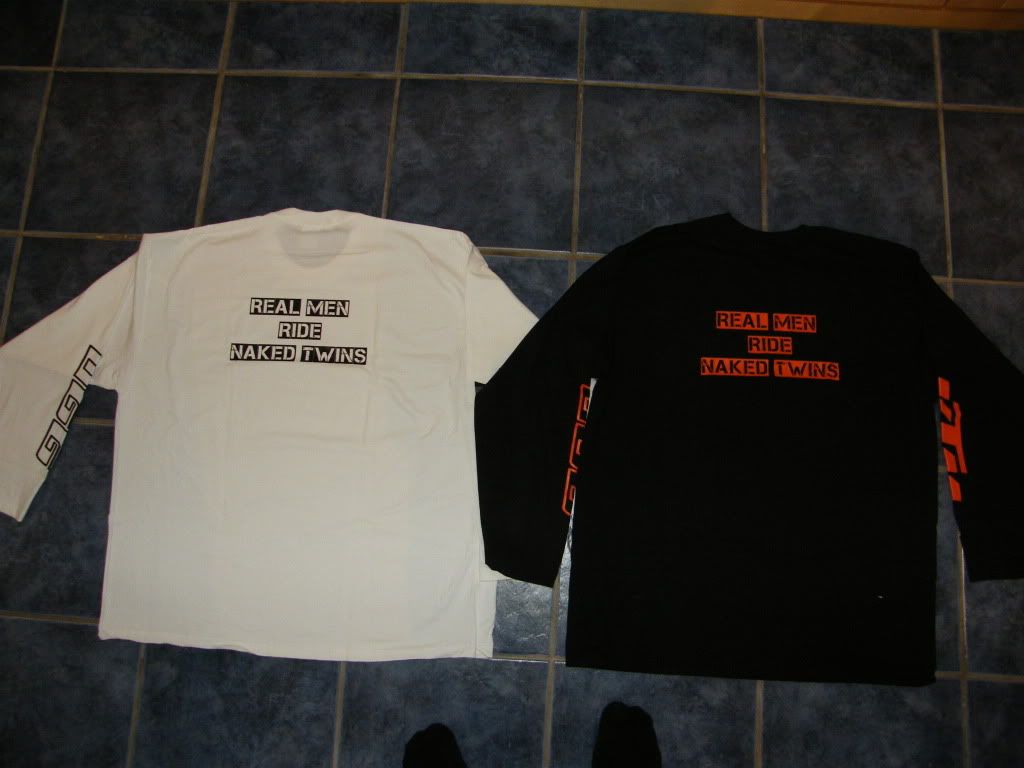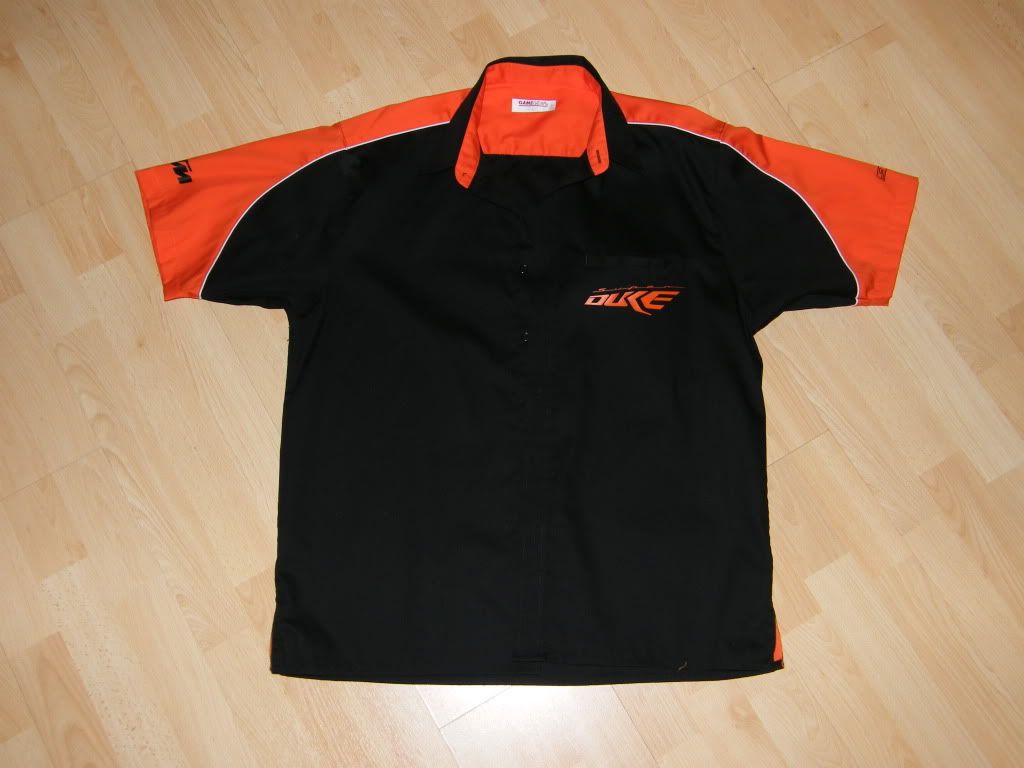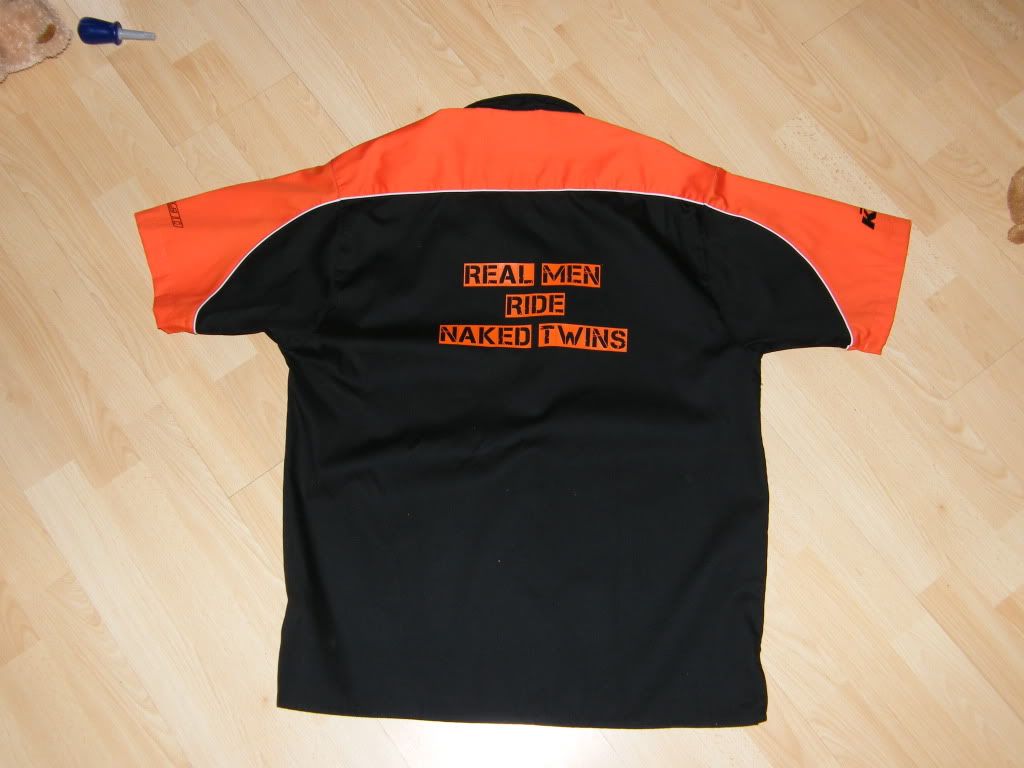 So basically I'm offering to get more of these done for anybody that wants them.
Please bear in mind though that I won't be making any money out of these, all the work I do to order, collect and get em posted out will be done completely free of charge as a favour to my Superduke.net buddies and you'll only be paying for the cost of the shirt and postage.
So please don't expect 24hr turn around or anything like that, they will be made to order and I will only order once money is received, if there are any delays for any reason such as out of stock of the t-shirts or they basically screwed them up or i haven't been able to collect straight away because of work commitments then I will keep you informed but I'm not taking the hit for any delays or cancellations if somebody decides they don't want theirs anymore.
Despite the above I will obviously do everything I can to make sure any requests are expedited as quick as possible.
Ideally it would be good to get a few done at once but we'll see how the interest goes on that one, I'm sure once the initial interest is gone it will just be the occassional one at a time so won't really matter, that's if people are interested at all of course.
Here are the prices, postage will need to be added on top but I think for the couple of t-shirts i posted out it was about £1.50 for postage in the UK. (Just Checked and it's £1.62 for std 1st class)
T-Shirts £17.63
Long Sleeve T-Shirts £18.92
Racing Shirts £32.79
Hoodies £31.73
Feel free to request any colour combination you want, if Big Toby wants pink and black we can do it, sequins would most likely be extra though, if Robbo wants orange on orange we can do that to.
Feel free to ask any questions or whatever.
Update:
Just a quick note to say, that I forgot to consider postal tracking in the postage
Obviously as I'm not doing this for money I can't be responsble for anything lost in the post as then it would cost me money for trying to do this so I'm giving prices for recorded and normal delivery when I PM my details over so that you can each make your own decision about how you want to do it.
In the UK it's an extra 75p for recorded delivery and for Airmail to Europe it's an extra £4.50 but this includes up to £500 insurance.
Uk recorded only offers max £39 compensation but I know further insurance can be paid for if required as I just did this for some rearsets I sold on ebay.